Long Looks capsules are ayurvedic height growth supplements that come with a formula based on modern research and studies. These natural grow taller pills for boys utilize immense and safe properties of herbs to promote physical growth in young boys and also in adult men.
Natural Height Growth Supplements
Recent research and studies conducted over human growth have revealed that a large percentage of humans fail to achieve optimum growth at a young age because of external factors like nutrition and lifestyle.
Since old times it is believed that people do not grow after 18 years of age. Modern scientific studies suggest that even this notion is not 100% correct as humans can attain physical growth even after puberty.
The height of a person depends upon the growth of long bones. If long bones continue to grow or are stimulated by providing correct nutrition to grow, any person can achieve a measurable increase in physical dimensions.
Best Supplements for Boys to Grow Taller
Long Looks capsules are ayurvedic height growth supplements for boys that provide the right kind of nutrition and hormonal release for optimum physical growth.
The herbs used in these pills as ingredients have been chosen wisely and after exhaustive research to address the entire range of causes that stunt the growth of individuals during growing years.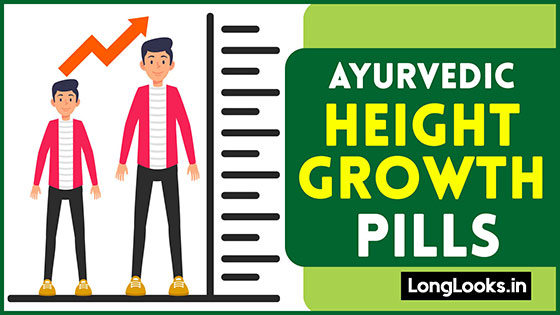 Natural Herbs to Increase Height
Long – A spice traditionally used for seasoning and aroma is an actually magnificent source of antioxidants.
Lac – A bone-strengthening substance that completes mineral density in bones and fights back problems like arthritis. It is a source of vital minerals necessary for optimum growth of long bones.
Chandrika – It is a natural healing herb that counters bone-related issues and is highly nutritive. It is a natural treatment for different forms of arthritis and promotes smooth absorption of nutrients for faster bone tissue generation.
Ashwagandha – Famous as a powerful hormonal balancer that also eliminates harmful hormones responsible for obstructing physical growth. It is great for mental health and comes with vital nutrition.
Karu – Herb recommended for a stronger skeleton and keep bacterial, fungal and viral infections away. It is a natural and powerful anti-inflammatory that protects joints from damages.
Vidarikand – This herb is regarded as anti-aging and promotes the release of growth hormone that gets diminished with growing age. This herb is a major ingredient that enables growth even in adult individuals. It is strong anti-inflammatory diffuses internal inflammation.
Babul – This herb is not just for oral care it is nutritive and bone enhancer as well. This is part of traditional treatment for muscle and joint pain and even used in the treatment of arthritis.
Neem – Ingestion of this herb improves growth rate in children and younger individuals. It is a powerful antipyretic and also recommended as an anti-arthritic herb in Ayurveda.
Somlata – This herb improves the cardio and urinary system. It is a powerful remedy for controlling Rheumatism that brings severe weakness in bones and muscles and stints at physical growth.
Chakramarda – This herb has multiple benefits, it is digestive, enhances immunity, improves liver functions and purifies the blood.
These height growth pills do not have any complicated methods of use. Raw herbs need refining and processing before one can use these as remedies.
But herbal supplements come with pre-refined and pre-processed herbs as ingredients in ready to use the form in a pill. All one is required to do is consume daily dose without misses for great results.
Any boy around the age of 18 or less shall consume one pill three times a day after breakfast, lunch, and dinner regularly to gain positive results in a short time.
Herbs are natural remedies and Long Looks capsules come with pure herbs of highest grade as ingredients.
No artificial or synthetic material has been used in these pills which makes them completely safe and free of any sort of side effects.
Pure herbs deliver safe results without causing any harm to overall physical or mental health.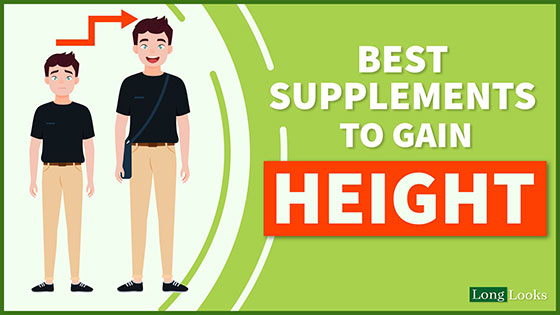 Herbs need time and discipline in use to show positive results. There cannot be overnight results and one needs to follow the treatment for sufficient duration without misses.
Although no general timeline can be stated for every individual but on the basis of user reviews and feedback duration of 3-4 months is believed as necessary for proper treatment.
Herbs are safe for a person of any age these are natural hence have no age restriction.
From young to adult males and females all can use these pills to gain optimum tallness without any worries of side effects.
If one uses these pills during growing age results are much better and faster. These pills naturally overcome factors that stunt physical growth and allow one to gain an impressive personality.
Long Looks capsules have thousands of satisfied users all over the world and all of these are sort of guarantee for the efficacy of these height growth supplements.
The use of herbs for improvement needs the support of diet and lifestyle and also proper exercises.
Simple consumption of supplements in some cases is not enough for the best results.
To ensure the best results one should take care of diet and lead a healthy lifestyle that includes timely sleeping and regular exercises, and avoidance of recreational products like tobacco, alcohol, etc.
If proper treatment for sufficient duration is taken along with diet and active lifestyle one gains positive results without fail.
If you liked this post, please share with your friends.
Long Looks capsules are the best ayurvedic height growth supplements for boys in India that help to increase the height and growth of the body naturally.
Please pin the image below. Remember, Sharing is Caring!
If you liked this post, you'll love these related articles.