Long Looks capsules are ayurvedic grow taller pills for girls that bring a measurable increase all by natural effects. These herbal pills are a collection of powerful herbs in perfect combination.
Height Growth for Girls
Be it a boy or a girl, being on a shorter side is never very impressive and has been a source of low confidence. In modern times girls are career-oriented and want to go out and show the world their talent and abilities.
Impressive and dominant physical appearance is one attribute that can be one of the biggest assets they possess. There are several reasons why girls fail to achieve optimum physical growth during a young age apart from genetics, under-nourishment, and disorders.
Long Looks capsules are reckoned as the best grow taller height pills for girls, a girl along with height gains stronger musculoskeletal system which works for her throughout life, and stronger joints and better fitness.
Long Looks Capsules for Girls
Here are a few reasons why the use of Long Looks capsules are the best way to increase height at home.
Improve internal system to increase bone strength and growth
Promote muscle and bone tissue generation naturally
Improve digestive, respiratory, cardio and urinary system
Suppress toxin-activities, eliminate harmful hormones and promote better glandular functions
Strengthen joints and metabolizes fat faster
Herbs to Increase Height Naturally
The following details clearly explain why these pills are the best ayurvedic supplements to increase height.
Ashwagandha is a hormonal balancer, rejuvenating, and nutritive herb that supports glandular functions and promotes physical and mental growth.
Vidarikhand is a strong anti-aging herb that revitalizes bodily organs and maintains optimum functions of systems to keep a person physically stronger and sound.
Lac or Laccifer Lacca is a trusted natural substance for promoting the bone generation and providing optimum physical growth.
Chandrika is a healing herb repair bone damage and fractures it is also protective against arthritis.
Babul is a traditional remedy for stronger teeth, joints, and bones. It is also a natural pain reliever and treats a variety of health problems.
Long and Karu used in these pills are antioxidant-rich herbs and eliminate muscle and bone weaknesses.
Neem is anti-microbial and anti-arthritic. It is used as a natural remedy for various health problems in Ayurveda.
Somlata is a curative and healing herb with strong properties to suppress various forms of arthritis including rheumatoid arthritis.
Chakramarda controls cholesterol, purifies the blood and is a natural diuretic it is also a digestion enhancer and improves immunity to keep disorders at bay.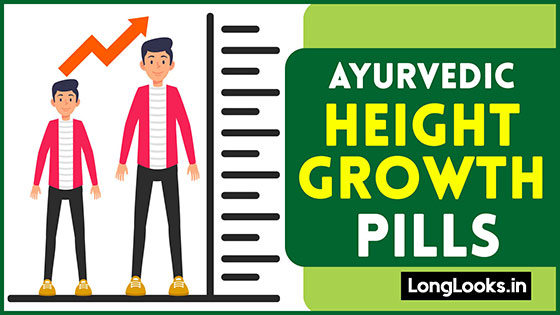 Ayurvedic Capsules to Increase Height in Females
A perfect blend of herbs makes Long Looks the most reliable and best grow taller height pills for girls. Not only young but even adult women can use these to achieve tallness by gaining a few extra inches safely.
These improve overall endurance and performance of the entire musculoskeletal system for better fitness and physical appearance.
Regularity and discipline hold the key for great results while using these ayurvedic grow taller pills for girls.
For a young girl, the dosage is two times a day, two capsules after breakfast and another two capsules after dinner regularly. Consume these pills with water and maintain water intake during the day.
These ayurvedic capsules for height growth are completely safe and harmless. There is no synthetic or chemical content in the pills.
Herbs of purest grade have been used as an ingredient which makes them completely free of even mild side effects.
From growing young boys and girls to adult men and women anyone can use these pills as a supplement to gain taller physique and stronger musculoskeletal system.
You can keep using these pills till you get desired results as these are safe and do not cause any side effects even after prolonged use.
As such there is no general timeline for all as every person is different in terms of genetics, eating habits and physical composition. But if we go by user feedback and our research duration of 3-4 months is necessary to get the best results.
However, some may see positive results in lesser duration than stated but others may need to follow the treatment for a longer duration.
These pills work best when you are growing. Before 18 years boys and girls naturally gain physical growth and proper support of these supplements at this time brings faster and best results.
Not only tallness at a young age, but Long Looks Ayurvedic supplements to increase height, provide stronger, bones and higher fat metabolism and muscle mass for sound fitness and strength.
Although even adult males and females gain positive results by using these supplements these results may vary depending on their health and lifestyle, in the case of young people results have been heartening and encouraging.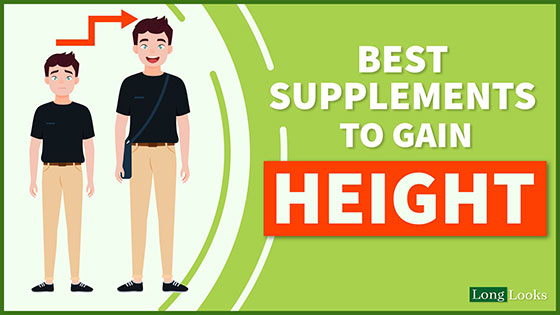 Long Looks capsules are the best grow taller height pills for girls and boys both.
All over the world, there are thousands of young and adult people that have used these pills to gain dominant and impressive physiques.
There has been no report of any side effect and people have admired extra health benefits of these pills along with improvement in height.
The performance and harmlessness of these pills give our customers the confidence and encouragement to use these.
Reviews and feedback of these supplements almost ensure positive results for individuals who follow a regular course of these ayurvedic height capsules for 3 to 4 months.
If you liked this post, please share it on social sites so others can find it!
Long Looks capsules are the best ayurvedic height growth pills for girls in India to increase height. These pills also improve immunity and overall health.
Please pin the image below. Remember, Sharing is Caring!
If you liked this post, you'll love these related articles.